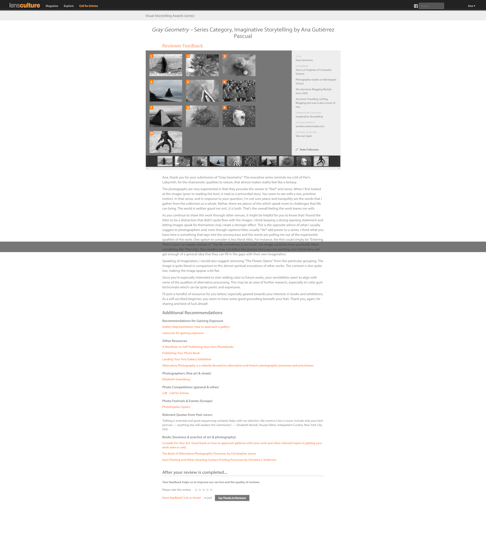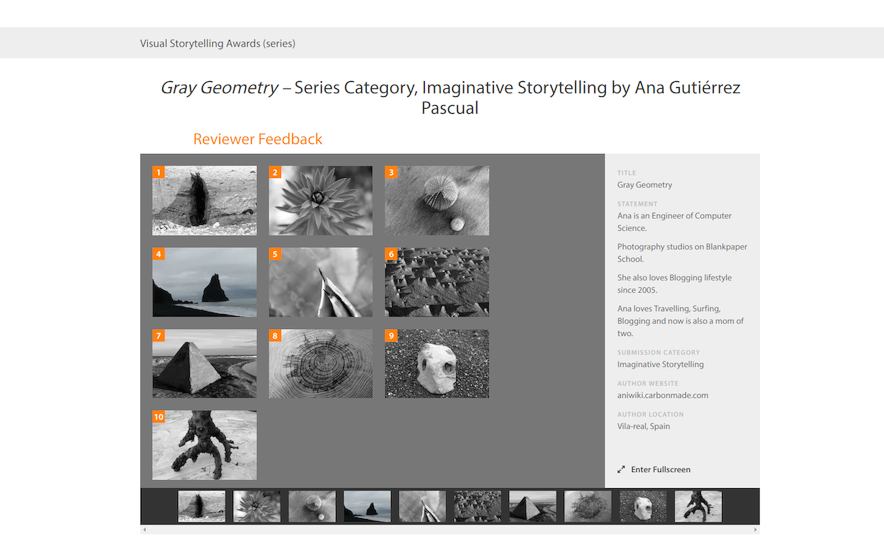 Ana, thank you for your ay Geometry". This evocative series reminds me a bit of Pan's Labyrinth, for the shamanistic qualities to nature, that almost makes reality feel like a fantasy.
The photographs are very experiential in that they provoke the viewer to feel and sense. When I first looked at the images (prior to reading the text), it read as a primordial story. You seem to see with a raw, primitive instinct. In that sense, and in response to your question, I'm not sure peace and tranquility are the words that I gather from the collection as a whole. Rather, there are pieces of this which speak more to challenges that life can bring. The world is neither good nor evil…it is both. That's the overall feeling the work leaves me with.
As you continue to share this work through other venues, it might be helpful for you to know that I found the titles to be a distraction that didn't quite flow with the images. I think keeping a strong opening statement and letting images speak for themselves may create a stronger effect. This is the opposite advice of what I usually suggest to photographers and, even though captions/titles usually do add power to a series, I think what you have here is something that taps into the unconscious and the words are pulling me out of the experiential qualities of the work. One option to consider is less literal titles. For instance, the first could simply be "Entering Plato's Cave", or maybe instead of "The life sometimes is too hard", the image could be more poetically titled something like "Piercing". Your readers may not follow the precise story you are painting, but I think they will get enough of a general idea that they can fill in the gaps with their own imagination.
Speaking of imagination, I would also suggest removing "The Flower Opens" from this particular grouping. The image is quite literal in comparison to the almost spiritual evocations of other works. The contrast is also quite low, making the image appear a bit flat.
Since you're especially interested to start adding color to future works, your sensibilities seem to align with some of the qualities of alternative processing. This may be an area of further research, especially tri-color gum bichromate which can be quite poetic and expressive.
I'll post a handful of resources for you below, especially geared towards your interests in books and exhibitions. As a self-ascribed beginner, you seem to have some good grounding beneath your feet. Thank you, again, for sharing and best of luck ahead!
ADDITIONAL RECOMMENDATIONS
Recommendations for Gaining Exposure
https://www.lightspacetime.art/how-to-approach-an-art-gallery-for-representation/
http://lenscratch.com/resources/
Other Resources
http://time.com/4040880/guide-self-publish-photobook/
Publishing Your Photo Book
Landiour First Gallery Exhibition
Alternative Photography is a website devoted to alternative and historic photographic processes and practioners.
Photographers (fine art & street)
Elizabeth Greenberg
Photo Competitions (general & other)
C4E – Call for Entries
Photo Festivals & Events (Europe)
PhotoEspaña (Spain)
Relevant Quotes from Past Jurors
"Editing is essential and good sequencing certainly helps with my selection. My mantra is less is more. Include only your best pictures — anything else will weaken the submission." — Elisabeth Biondi, Visuals Editor, Indepedent Curator, New York City, USA
Books (business & practice of art & photography)
Crusade For Your Art. Good book on how to approach galleries with your work and other relevant topics to getting your work seen or sold.
The Book of Alternative Photographic Processes by Christopher James
Gum Printing and Other Amazing Contact Printing Processes by Christina Z Anderson